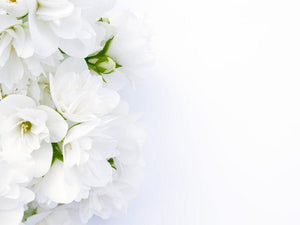 Abbey Essentials
Jasmin Absolute 5% in Grapeseed 10ml
Regular price
£3.29
£0.00
Jasmine Absolute Oil 5% in Grapeseed Oil Jasminium grandiflorum 5% in Vinis Vitifera
Jasmine has a long history in perfumery including Cleopatra and Louis XVI.
Source: Jasminium grandiflorum is grown in France.
Extraction: Jasmine Absolute Oil is solvent extracted from the fresh flowers.
Aroma: Jasmine Absolute Oil has a deep, musky, rich, warm floral scent.
Fragrance Note: Middle.
Properties: Jasmine Absolute Oil is anti-inflammatory, carminative and considered an aphrodisiac.
Grapeseed Oil is rich in Vitamin E and Fatty Acids. It absorbs very quickly in to the skin and is a preferred cosmetic ingredient for damaged and stressed tissues because it possesses regenerative and restructuring qualities which allow better re-hydration of the skin.
Uses: Jasmin Absolute dilution is commonly used in creams to combat dry, greasy and sensitive skin problems. It may also be used in massage, baths and as a perfume.
Caution: Avoid contact with eyes and sensitive areas. Do not swallow.
---
Share this Product
---
More from this collection