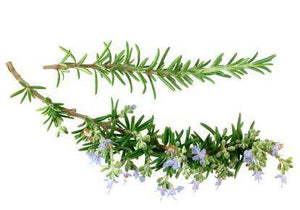 Abbey Essentials
Rosemary Organic 5ml
Regular price
£4.39
£0.00
Organic Rosemary Essential Oil Rosmarinus Officinalis
Rosemary has long been valued as a sacred plant. It has been used for magic, medicine and on the menus of most early civilisations.
It is burnt to drive away infection, eaten for liver and digestive disorders and inhaled for respiratory and nervous complaints. It is also considered a symbol of love, and the sprigs have been traditionally used in wedding ceremonies. Rosmarinus is Latin for dew (ros) of the sea (marinus).
Source: Organic Rosmarinus officinalis is produced in Spain and Tunisia.
Extraction: Organic Rosemary essential oil is steam distilled from the flowering tops of the shrubby evergreen bush.
Aroma: Organic Rosemary essential oil has a fresh, green woody scent with a slight balsamic undertone.
Fragrance note: Middle.
Properties: Organic Rosemary essential oil is antiseptic, stimulating and astringent. The aroma is invigorating and cleansing for the emotions.
In aromatherapy, it is used to relieve headaches and help open the air ways. It is used with massage to encourage healthy circulation.
Uses: Massage, baths, vaporization and may be added to base emollients.
It is particularly useful as a warming body massage for muscular aches, or as a head and scalp massage to balance greasy hair, improve concentration or relieve headaches. Add Organic Rosemary essential oil to the bath as a pick-me-up for mental or physical tiredness and inhale it for respiratory problems.
Blends well with: Basil, Bergamot, Black Pepper, Cedarwood, Cinnamon, Citronella, Clary Sage, Elemi, Eucalyptus, Frankincense, Geranium, Grapefruit, Lavender, Lemon, May Chang, Mandarin, Marjoram, Niaouli, Oregano, Peppermint, Petitgrain, Pine, Ravensara, Tea Tree and Thyme.
Caution: Organic Rosemary essential oil is perfectly safe for home use as long as it is well diluted before application.
However, do not use it during pregnancy or if you have epilepsy (or if you are giving a massage to someone suffering from the condition).
Material Safety Data Sheet
Typical Analysis
---
Share this Product
---
More from this collection