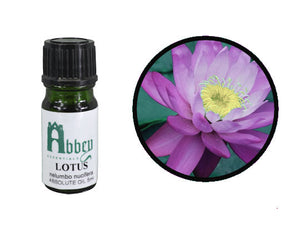 Abbey Essentials
Pink Lotus Absolute Oil
Regular price
£26.19
£0.00
Lotus Absolute Oil
Nelumbo nucifera
The Lotus flower is often viewed as a symbol of awakening. The reason is that while it grows in muddy ponds of sometimes stagnant water, it blossoms every day with the pre-morning sun.
Since the ancient era, the flower lotus is considered to be the symbol of love and spirituality.
The plant lotus has wide connection with the Hindu mythology as it is associated with the goddess of wealth and broadly uses this in numerous religious ceremonies. In Thailand and Egypt, lotus absolute is widely used to maintain good health as it also stimulates the blood circulation of the body and relives pain.
The Lotus blossom may be either White which relieves stress and anxiety, Blue an aid to meditation or Pink for calming and relaxation
Source: Nelumbo nucifera, Pink Lotus is an aquatic plant of tropical Asian origin and found in Queensland, Australia. It is also known as Indian Lotus, Sacred Lotus or Bean of India (the whole plant is edible). Its height ranges from 150 cm to 160 cm with a horizontal spread of about 3 meters. The diameter of the leaves could be up to 60 cm with the flower having diameter of 20 cm.
Extraction: Lotus Absolute Oil is solvent extracted from the flowers of the Water Lily.
Aroma: Lotus Absolute Oil has an exotic floral scent with slightly herbaceous and medicinal top notes.
Fragrance note: Middle.
Properties: Lotus Absolute Oil is antiseptic, carminative and stimulant.
Lotus is known for its ability to relax, rejuvenate and soothe. Users often feel more open to forgiveness and kindness.
Uses: Massage, bathes, vaporization and may be added to base emollients. It can also be used to fragrance candles, potpourri and room fresheners. It is used in high-class perfumes.
Blends well with: Benzoin, Bergamot, Cinnamon, Frankincense, Geranium, Neroli, Oakmoss, Patchouli, Rosewood, Sandalwood, Vetivert, and Ylang Ylang.
Caution: Always dilute Lotus Absolute Oil to 5% or less in a carrier oil before application.
---
Share this Product
---
More from this collection