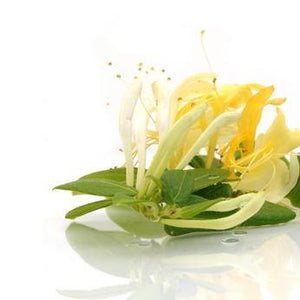 Abbey Essentials
Honeysuckle Absolute 5% in Grapeseed 10ml
Regular price
£9.99
£0.00
Honeysuckle Absolute Oil 5% in Grapeseed Oil Lonicera Caprifolium 5% in Vinis Vitifera
Source: Lonicera Caprifolium is grown in France.
Extraction: Honeysuckle Absolute Oil is solvent extracted from the fresh flowers.
Aroma: Honeysuckle Absolute Oil has a sweet and succulent scent.
Fragrance note: Top.
Properties: Honeysuckle Absolute Oil is astringent.
It is used in aromatherapy to improve circulation, promote positive moods, ease pain, soothe irritated skin, encourage open breathing, and reduce inflammation throughout the body.
Grapeseed Oil is rich in Vitamin E and Fatty Acids. It absorbs very quickly into the skin and is a preferred cosmetic ingredient for damaged and stressed tissues because it possesses regenerative and restructuring qualities which allow better re-hydration of the skin. It is one of the most popular oils in aromatherapy.
Uses: Honeysuckle absolute dilution is used most commonly in massage oil blends, bath oils, creams, gels and a wide range of other cosmetic formulations.
Caution: Avoid contact with eyes and sensitive areas. Do not swallow.
---
Share this Product
---
More from this collection