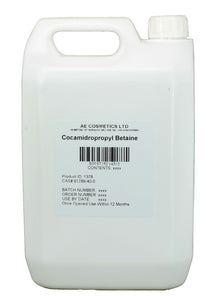 Abbey Essentials
Cocamidopropyl Betaine
Regular price
£8.99
£0.00
Cocamidopropyl Betaine is a synthetic surfactant that has been used in personal care products for over 30 years. It is derived from coconut oil, and it is a mixture of fatty acids, amino acids and amines. As a cationic surfactant, Cocamidopropyl Betaine is milder than traditional detergents. Its gentle cleansing action makes it ideal for use in shampoos, body washes, hand soaps and liquid cleansers.
Some studies have shown that it can also act as an anti-fungal and antibacterial agent, which makes it effective at reducing dandruff and other scalp conditions.
It is a white or light yellow liquid at room temperature, and has a faint odour that is often described as slightly fruity.
The recommended usage rate is 4-40%
---
Share this Product
---
More from this collection