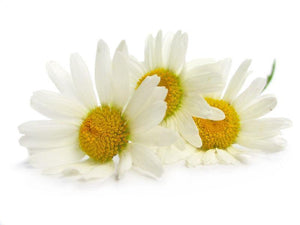 Abbey Essentials
Chamomile Matricaria Absolute 5% in Grapeseed 10ml
Regular price
£5.10
£0.00
Chamomile Matricaria Absolute 5% in Grapeseed Oil
Chamomilla Matricaria 5% in Vinis Vitifera
Matriciara Chamomile is also known as German or Blue Chamomile. It has even greater properties than Chamomile Roman because it has a higher percentage of azulene. When blended with a base cream or lotion it is very beneficial to the skin due to its healing and soothing properties. It can help to calm eczema and other flaky skin conditions and calms red or irritated skin due to its regenerative qualities.
Source: Egypt
Extraction: Chamomilla Matricaria is solvent extracted from the plant.
Aroma: Chamomile Matricaria absolute has a strong, sweetish, warm, herbaceous scent.
Fragrance note: Middle.
Properties: Matricaria Chamomile is anti-inflammatory, antispasmodic, bactericidal, carminative, cicatrizant, digestive, stomachic and sudorific.
Grapeseed Oil is rich in Vitamin E and Fatty Acids. It absorbs very quickly into the skin and is a preferred cosmetic ingredient for damaged and stressed tissues because it possesses regenerative and restructuring qualities which allow better re-hydration of the skin.
Chamomile Matricaria Absolute has been diluted to 5% in Grapeseed Oil so it is ready for use in massage or in a vaporiser.
Uses: Highly beneficial for the skin and valuable in your first aid box. German Chamolile is excellent for protecting dry skin.
Excellent for massage with children as it soothes and relaxes. Perfect for bedtime. It is also used as a hair tonic especially for fair hair.
Caution: Avoid contact with eyes and sensitive areas. Do not swallow.
---
Share this Product
---
More from this collection